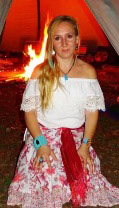 My name is María Isabel Mejia, I am from Medellin, Colombia, I'm a woman, mother of 5 children and grandmother of 3 grandchildren, and fortunately yagecera, medicine woman.  Twenty years ago I met the yagé medicine (ayahuasca), and I can say that it was love at first drink.  Since then I began my path with the Sacred Plants, at first like everyone in a search for healing and self-knowledge and that is how this path led me to continue taking more medicine, to continue healing and learning from different shamans and communities.  Initially it was with shamans (taitas) from my country Colombia and then the paths opened to meet and learn from others from Peru and especially Brazil.  Along this path with the sacred medicines I have done different courses for self-healing, self-knowledge and understanding of our connection with the spiritual world, all this has led me to my interior and to want to share it with others.
My experience began as an assistant in ceremonies after having learned for a long time about all this, and after almost twelve years of practice and collaboration with others, I received the blessing of one of my teachers to give the yagé remedy.  For a little over 8 years I have been working with the sharing of sacred medicines (especially ayahuasca) but I also have experience working with tobacco, hapé, mambe, sananga.  I am a Kambó and Bufo practitioner as well.  So I try in my ceremonies to share my knowledge, my medicines and my wisdom.
In my ceremonies I try to bring a bit of each tradition with which I have shared, because the knowledge of working with the medicines of the Amazon jungle does not belong to a single tribe or a single country, I think that uniting all this wisdom helps us deeply.  As a woman, it has not been easy to open a path in the world of yagé because it has normally been a tradition (at least in my country), very macho, but I have had the blessing of finding teachers/shamans who have guided me and allowed me to learn and advance. as a medicine woman.  I currently have the support of my teacher Taita Bernardo Chindoy (from the Kamëntsá tribe) with whom twice a year I share the cooking of medicine in the Colombian jungle.
As a mother and grandmother that I am, I like to take care of those who come to drink with me as if they were my family and feel what they need to be able to help them during their process.  And as a woman I am particularly interested in helping to awaken the sacred feminine, by recovering that memory of what the true role of women is and helping to empower them.
I firmly believe that the time for change and equality has arrived and that is why I think and feel that it is important to work on our femininity, to recover our ancestral memories and our power as portals of life, and that is why my role as a medicine woman is help in that awakening, in that process and at the same time help heal the masculine so that we stop seeing ourselves as competition in some way and find our balance.
That is my purpose in my ceremonies and I hope I can share it with whoever is reading this very soon.