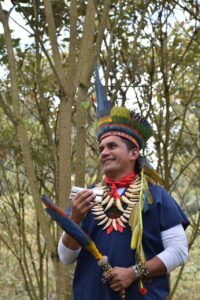 About Taita John Muchavisoy,
At a very young age, he began the journey of learning to become a traditional indigenous doctor certified by the Columbian Government. He immersed himself in the jungle for more than 15 years where he went through preparation processes and was able to work hand and hand with the various medicines of the earth, in different patients with physical, emotional and spiritual conditions.
His experience and journey now totals 25 years during which time he learned from great grandparents and teachers. The main one, the renowned Major Taita Hipotito Muchuviddy, his father who brought him the knowledge of medicine since he was a child.
Ayahuasca medicine is more than a plant, it is a spirit, which manifests itself thought its consumption and helps us to observe our journey through life. It brings us to the present moment, in which it is possible to recognize the reason for the situations we live and that have led us to who we are.