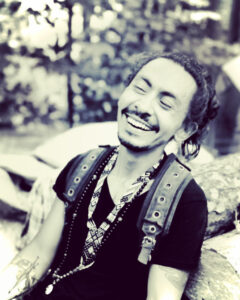 Nico's path with Ayahuasca began 16 years ago through an apprenticeship under Taita Florentino Agreda, from Putumayo Colombia. These first few years of regular ceremonies were a powerful initiation, which brought a lot of clarity and established a deep relationship with this medicine.
With Taita Florentino Nico has traveled throughout Colombia, assisting in ceremonies, playing medicine music, and eventually learning from Taitas of other traditions. Some names include Taita Isaias Munos Macanilla (Kitchwas community from the Amazon), Taita Querubin Queta (Cofan), Taita Leonel Tascon (Embera), to list a few.
Another profound experience during these years of exploration and healing was living with the indigenous Kogi people in the town of Sebiaca, in Sierra Nevada, Colombia where Nico taught and played music with the children of the community. A unique experience where he learned about the cosmology and the healing practices of these indigenous people, the simplicity and beauty of life in total alignment with all the elements.
Upon moving to the United States, Nico embraced organic farming and sustainable building, he serves as a fire-keeper for the sweat lodges in the traditions of Lakota and Itzachilatlan. He is currently on his third year of Vision Quest in the tradition of Itzachilatlan and has been invited to start Sun Dance with the One Heart One Mind, Lakota community.
Nico believes that the medicine and all these ancient traditions and alters exist to show us that the real medicine is life itself. He is here to serve in creating a safe, sacred, and beautiful space for the people to sit with one of the greatest shamans there is, The great spirit of Ayahuasca.