Women's Ayahuasca Retreat with Haley
With Haley
September 23 - 25, 2022
Donation $725
Please join us for a 3 day, 2 night sacred, women only, ayahuasca retreat in southern New Hampshire. The weekend will include all of your meals, accommodations, and activities.
The retreat includes two ceremonies on Friday and Saturday and we will finish on Sunday by noon after breakfast and a group photo. Activities may vary for the weekend, but will include breath work, yoga, integration, and music.
We offer indefinite integration online at no extra cost to assist you in bringing the insights you gained through ceremony into your daily life. Details will be provided to you after the retreat and you are welcome to join the integration session whenever you feel called.
We provide a safe, loving, and respectful space for you to do your important inner work and are honored that your journey led you to the Sanctuary.
Sign up for our newsletter during registration to be added to our mailing list and receive Sanctuary updates, discount codes, special invites, and more!
Blessings to you.
Leader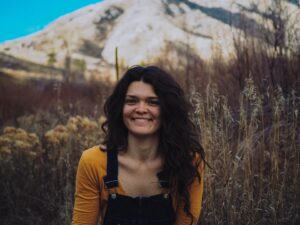 Haley
Haley has been participating in medicine work for over 6 years. In that time, she has worked closely with facilitators around the world that she admires, soaking up knowledge and practices. She has studied space holding, meditation and music. Haley enchants the room with her music that plays a big role in the ceremony. She is a multi-instrumentalist that guides the energy of seen and unseen.  Apprenticing under her teacher for 4 years, she brings embodiment practices, self-expression, and musical healing into the space.
Learn more about Haley