Final Canterbury Ayahuasca Retreat
With Stephen Goterch
October 14 - 16, 2022
Donation $750
Final Retreat at the Canterbury Location!
The Sanctuary will be moving to a new location and we will be hosting special events to close out this space as we prepare for the next steps in our journey. This is the last retreat at our current Sanctuary and we are hoping to make it a special event for all.
This 3 day, 2 night retreat in southern New Hampshire includes two ayahuasca ceremonies on Friday and Saturday and we will finish on Sunday by noon after breakfast and a group photo. The weekend will include all of your meals, accommodations, and activities. Activities may vary for the weekend, but will include breath work, yoga, integration, and music.
We offer indefinite integration online at no extra cost to assist you in bringing the insights you gained through ceremony into your daily life. Details will be provided to you after the retreat and you are welcome to join the integration session whenever you feel called.
We provide a safe, loving, and respectful space for you to do your important inner work and are honored that your journey led you to the Sanctuary.
Sign up for our newsletter during registration to be added to our mailing list and receive Sanctuary updates, discount codes, special invites, and more!
Blessings to you.
Leader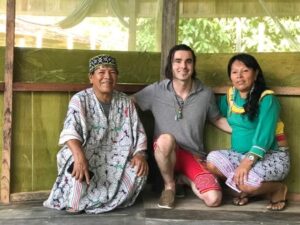 Stephen Goterch
My journey began growing up in Derry NH, three houses down from the Historical Robert Frost Farm. "The only way out is through" one of Frost's great quotes which has resonated with me from an early age. I realized this notion is very true, while we are here to face the world, our ego, and gradually transform through it, inevitably into our higher selves. Facing challenges and experiencing trauma is common for most individuals along our lives. Held in fearful unconscious reactions to these traumas and negative surroundings, we tend to deviate from our intended positive paths. Physical and mental health can quickly deteriorate through daily stress, self-medicating, the wrong medications in general or overall unhealthy lifestyles choices. On a personal level, there came a time around 26 years of age where enough was enough, the ego and its unconscious choices needed to be recognized and healed in a radical holistic fashion. With the proper tools, education, and guidance, I inherently knew I was ready to "Awaken" to this higher and healthy self. My first pivotal calling came in 2007 traveling to the Amazon Rainforest in Peru and Machu Picchu. I had the great opportunity to work with many gifted…
Learn more about Stephen Goterch