Sacred Ayahuasca Retreat with Taita John $888
With Taita John
September 29 - October 1, 2023
Join us for a truly transformative experience at our Sacred Ayahuasca Retreat outside of beautiful Portland, Maine. Our Medicine Carrier, Taita John, will guide you through a transformative 3 day, 2 night weekend which includes all meals, accommodations, and activities, so you can focus on your inner journey.
During the weekend, you'll participate in two powerful ceremonies on Friday and Saturday, along with activities like breath work, yoga, integration, and music. On Sunday, we'll conclude with breakfast and a group photo before you depart feeling renewed and empowered.
To support your continued growth and integration, we offer indefinite online integration sessions at no extra cost. You'll receive all the details after the retreat and can participate in the sessions whenever you feel called.
We're honored to provide a safe, nurturing, and respectful space for you to do this important inner work, and we're grateful that your journey has led you to our Sanctuary.
Don't forget to sign up for our newsletter during registration to receive exclusive Sanctuary updates, discount codes, special invites, and more!
Thank you for your generosity, and we send blessings to you on your journey.
Pachamama Sanctuary 
Leader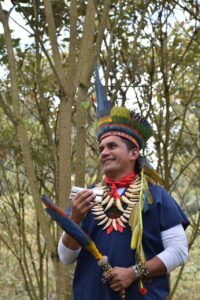 Taita John
About Taita John Muchavisoy, At a very young age, he began the journey of learning to become a traditional indigenous doctor certified by the Columbian Government. He immersed himself in the jungle for more than 15 years where he went through preparation processes and was able to work hand and hand with the various medicines of the earth, in different patients with physical, emotional and spiritual conditions. His experience and journey now totals 25 years during which time he learned from great grandparents and teachers. The main one, the renowned Major Taita Hipotito Muchuviddy, his father who brought him the…
Learn more about Taita John