Sacred Ayahuasca and Sacred Toad Retreat with Juan and Maria $725
With Juan and Maria
October 20 - 22, 2023
Join us for a truly transformative experience at our Sacred Ayahuasca Retreat in beautiful Casco, Maine. Juan and Maria have been serving with the medicine for more than 3 decades combined, and have a beautiful way of creating community and growth in a compassionate and loving container. 
Over the course of 3 days and 2 nights, you'll have the opportunity to fully immerse yourself in the retreat experience, with all meals, accommodations, and activities. Activities will include two powerful ceremonies on Friday and Saturday, as well as breath work, yoga, integration, and music. We'll conclude on Sunday with breakfast and a group photo, leaving you feeling renewed and empowered.  Kambo and Toad ceremonies are available as add-ons. 
We're honored to provide a safe, nurturing, and respectful space for you to do this important inner work, and we're grateful that your journey has led you to our Sanctuary.
To support your continued growth and integration, we offer indefinite online integration sessions at no extra cost. You'll receive all the details after the retreat and can participate in the sessions whenever you feel called.
Don't forget to sign up for our newsletter during registration to receive exclusive Sanctuary updates, discount codes, special invites, and more!
Thank you for your generosity, and we send blessings to you on your journey.
Pachamama Sanctuary
Leader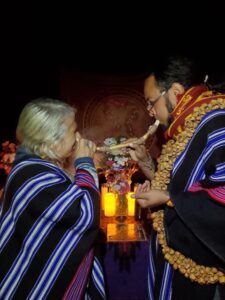 Juan and Maria
We are Ayacona. Ayacona is a project created by Juan and Maria. They are a couple of yageceros/practitioners originally from Colombia and have been working with the sacred medicines from the jungle for around 18 years now. Juan and Maria have had the opportunity to learn and to work with different taitas, shamans, indigenous people, medicine men and women from different tribes from the Amazon, from Colombia, especially with the people from the Kametsá tribe, in Putumayo, Colombia; but they have also been with the people from Brazil and Perú. They strongly believe that Amazon is not only one particularly…
Learn more about Juan and Maria