Special Full Week retreat with Taita Pedro $2000
With Taita Pedro Davila
December 1 - 7, 2023
Join us for a truly transformative experience at our Sacred Ayahuasca Retreat outside of beautiful Portland, Maine. Our Medicine Carrier, Taita Pedro, will guide you through a transformative 7 day, 6 night weekend which includes 4 ceremonies, all meals, accommodations, and activities, so you can focus on your inner journey.  
During the week, you'll participate in four powerful ceremonies, a full day of integration with our Integration Leader Suzanne, along with activities like breath work, yoga, integration, and music. On Thursday, we'll conclude with a closing circle followed by our Sunday Service, Group Photo, and optional Kambo Ceremony.
To support your continued growth and integration, we offer indefinite online integration sessions at no extra cost. You'll receive all the details after the retreat and can participate in the sessions whenever you feel called.
We're honored to provide a safe, nurturing, and respectful space for you to do this important inner work, and we're grateful that your journey has led you to our Sanctuary.
Don't forget to sign up for our newsletter during registration to receive exclusive Sanctuary updates, discount codes, special invites, and more!
Thank you for your generosity, and we send blessings to you on your journey.
Pachamama Sanctuary 
Leader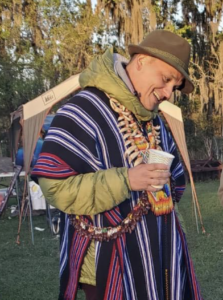 Taita Pedro Davila
Taita Pedro, also called Shaman, Curandero, Conocedor, Yagecero, or traditional Indigenous Physician as these men are known in Putumayo, Colombia has more than 20 years of experience working with the family of sacred plants. He arrived in the United States in 2016 to help spread the teachings of the native people of South America. His work creates awareness by sharing the knowledge, respect and use of sacred plants that is traditional in countries such as Colombia, Argentina, Europe, Venezuela, Mexico, and Panama. In his journey through the United States, he has brought many people through the process of finding insight…
Learn more about Taita Pedro Davila