Huachuma (San Pedro) Healing Ceremony with Oswal $350
With Taita Oswal Pomaquiza
November 25 - 26, 2023
Embark on a transformative journey with the ancient and sacred Huachuma cactus, revered for its deep spiritual and therapeutic properties. Nestled in the embrace of nature, our healing ceremony offers a profound connection to the universe, oneself, and the pulse of life that threads us all together.
Led by Oswal, an experienced guide with a profound connection to the traditions of the Andes, this ceremony promises an immersive experience. Participants will be guided through the nuances of Huachuma, from its rich historical significance to its transformative effects on the human psyche.
What to Expect:
Sacred Setting: Our venue provides a tranquil and supportive environment, perfect for introspection and connection.
Guided Experience: Oswal will be at the helm, ensuring participants navigate their journey safely, with chants, music, and other traditional tools to enhance the experience.
Deep Connection: Delve into a heightened state of awareness, achieve clarity on personal matters, and cultivate a renewed sense of connection to the world around you.
Integrated Closure: Conclude the ceremony with a reflective sharing circle, aiding the processing and understanding of your unique experience.
Inclusions:
All food and refreshments tailored to complement the experience.
Comfortable sleeping accommodations for those who wish to rest or stay overnight.
Comprehensive support throughout your journey.
Join us for this authentic and profound ceremonial experience, providing insights, healing, and a deeper understanding of oneself. Ensure your place in this transformative event and experience the magic of Huachuma under the guidance of a seasoned expert.
Blessings,
Pachamama Sanctuary
Leader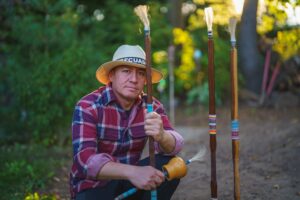 Taita Oswal Pomaquiza
Meet Taita Oswal Pomaquiza, a revered medicine man hailing from the Andes mountains of Ecuador. More than just a healer, Taita Oswal is a devoted father and husband, steeped in the wisdom and traditions of the Andean Cosmovision. He also holds the esteemed title of an elder medicine man within a North American church. Taita Oswal's journey began in the very mountains that birthed the sacred medicine he practices with. This medicine has been the guiding force throughout his life. Alongside his wife Joanne, and with the support of their extended North and South American families, Taita Oswal has been…
Learn more about Taita Oswal Pomaquiza