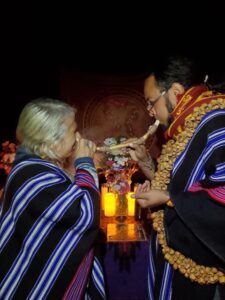 We are Ayacona.
Ayacona is a project created by Juan and Maria. They are a couple of yageceros/practitioners originally from Colombia and have been working with the sacred medicines from the jungle for around 18 years now.
Juan and Maria have had the opportunity to learn and to work with different taitas, shamans, indigenous people, medicine men and women from different tribes from the Amazon, from Colombia, especially with the people from the Kametsá tribe, in Putumayo, Colombia; but they have also been with the people from Brazil and Perú. They strongly believe that Amazon is not only one particularly country, they believe in respectfully unifying as one. Each tribe, tradition, and medicine, has something very powerful to teach us, so that is why Juan and Maria integrate  a little bit of each of them into their own ceremonies through the music, the medicines, and the way they hold the sacred space.

This purpose of Unification is why they started a year ago an alliance with the Lakota people, manifesting with them the prophecy of Condor and Eagle, to fly together again to share and unite pueblos through respect, ceremonies, and medicines to bring the ancient memories of who we really are, and help to bring peace and healing in each of us and to our beloved planet.
As a couple Juan and Maria offer the balance between the sacred masculine and the sacred feminine, sharing their nourishment and strength to work all together in healing balance.
If you want to know more about us you can find us at the safe ceremonies website: https://safeceremonies.com/listings/ayacona-austin/