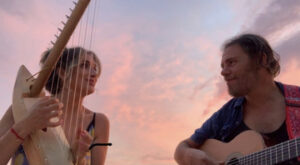 Marco's communion with Ayahuasca began 19 years ago. He was initiated by a Huichol Medicine Man on a pilgrimage to Wirikuta, followed by vision quests for 4 years under the guidance of Lakota Indians from the North. He has also studied under Yopo and Mamawilka from the Piaroa tribe under the guidance of the tribe elder Bolivar.
His path with Ayahuasca started 10 years ago with an apprenticeship in the Amazon jungle with the Shipibo Tribe and tribe Shamans: Fidel Mozombite, Mateo Arevalo, Daniel Arevalo, Takiwasi and Atahualpa and continued in Mexico under the Mayan Shaman Don Lauro de la Cruz doing energy healing work.
He continues to learn and practice these traditions with by communing with kindred sacraments in places like: Peru, Venezuela, Brazil, Mexico, and the United States. He has been performing Ayahuasca ceremonies for the past 7 years and believes the most important thing everyone needs to know is that the sacrament herself is the shaman, his part is to serve as a conduit between the sacrament and its participants, to give support and guidance in this process.